Kathy here today to share another palmetto tree painting.  Last year I shared one on this blog (see it here) and ever since I've wanted to make another as a complement. I want to hang them on either side of a large window in my house. When I made the first one, I applied Sorbet and Velvet mediums with super heavy gesso using a palette knife very thick so that you could see and feel the texture.  I didn't know that this technique had a name until recently.  It's called Impasto. Here is the definition according to Wikipedia:
Impasto is a technique used in painting, where paint is laid on an area of the surface very thickly, usually thick enough that the brush or painting-knife strokes are visible. Paint can also be mixed right on the canvas. When dry, impasto provides texture and the paint appears to be coming out of the canvas.
You can see my process here
Check out How to Paint a Palmetto Tree 2 by Kathy Adams by Art Anthology on Snapguide.

Here are more detail shots of the canvas.
Thank you for visiting the blog today. I'd love to see what you are making this summer. Did you know you can share your creations on Facebook a  Art Anthology Adventures in Art?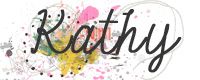 Visit Kathy's blog
See Kathy's art work on Pinterest 
Follow Kathy on Instagram